This is a travel post concerning the PA Dutch Country. This is a list of my favorite spots to eat with a word about each. They are not ranked in any particular order, just a stream of consciousness.
Bird-in-Hand Family Restaurant and Smorgasbord:
This restaurant specializes in family meals and traditional Pennsylvania Dutch recipes. The portions are large. The restaurant features buffet and a la carte dining. The restaurant is quite large and is popular among both tourists and locals. There is typically a short wait at lunch and dinner and at breakfast at certain times. During peak tourist season the waits can be much longer depending on the time of arrival. The atmosphere is pleasant, the servers and hosting staff are competent, knowledgeable and friendly, most of them are long-time employees. Costs are average, but have risen noticeably in the past two years. The restaurant also features banquet services for meetings and special events. Many of the more popular dishes such as cold salads, ham loaf and desserts are available to take home in large quantities. This restaurant is owned by the Bird-in-Hand Corporation. This group owns several hotels in the area (including the adjacent Bird-in-Hand Family Inn), a bakery, a deli and some other local ventures. The restaurant started in 1968 as a coffee shop/snack bar for the adjacent Family Inn (then called Bird-in-Hand Motor Inn). In 1970 it was expanded to a 145 seat restaurant called the Bird-in-Hand Family Restaurant. In the 1990s a buffet was incorporated. In 2005 the restaurant expanded and a very large buffet was installed. The name was changed to the current iteration at that time.
My favorite dishes are their scrapple (the best I have found in a restaurant), their home fries, dried or chipped beef gravy, their chicken salad on a pretzel roll, their veal cutlet with stewed tomatoes and various other Pennsylvania Dutch entrees such as Lancaster County baked sausage and ham loaf. Their grilled crab cakes are fantastic.This restaurant has the best chicken corn soup I have ever eaten and I have an intimate, 25 year relationship with a local Amish family in Bird-in-Hand and have had homemade chicken corn soup, this restaurant's is far better -that should tell you how good this soup is. Another must have is their cucumbers and onions which is in a sweet cream. Bread filling and buttered noodles are also favorites. The restaurant used to serve the best baked dried corn I ever had, but they no longer have it as their supplier went out of business.The desserts are very good, especially the shoo fly pie and the red velvet cake. They also feature a dessert of the month. At breakfast I highly recommend the hot chocolate with whipped cream- it is the best I've ever had.
As I don't typically partake in the buffet, I am providing you with a few excellent reviews of it from the master of buffets:
One
,
Two
,
Three
,
Four
, and
Five
.
Shady Maple Smorgasbord:
This is a sight to behold. I am not a fan of buffets, but this one must be experienced. It has over 200 hundred feet of food! They have the regular hot bars, salad bars, dessert bars, etc. along with a bread bar, a cheese bar, a grill, and nearly every non-alcoholic beverage fathomable. Be prepared to wait if you go at night or on weekends. I suggest going for an early lunch- it's much cheaper. The night smorgasbord feature different theme menus. Lunches are typically traditional Pennsylvania Dutch fare along with other buffet staples. I have not tried breakfast. The restaurant is off of Route 23 in the Blue Ball/East Earl area, so it's away from the traditional US-30/896/340 tourist area. The lobby and bathrooms look like they came out of a five-star hotel and they have a department store sized gift shop. There is also an adjacent grocery store and furniture store. Shady Maple won the 2007
Buffet of the Year Award
by the excellent Blog
The Art of the Buffet
.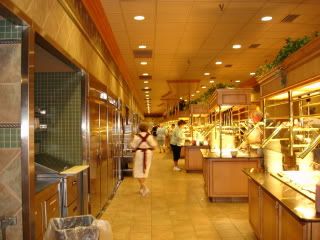 Bar after bar of food
Jennie's Diner:
This is a traditional diner, specializing in diner fare with PA Dutch specialties such as scrapple and ham loaf. They have excellent chipped or dried beef gravy, scrapple and home fries and the largest pancakes I have ever seen, they hang off of the sides of the platter. Their hot open face sandwiches are wonderful and be sure to ask for gravy on your fries if you order french fries.
Jennie's Diner
Hershey Farm Restaurant:
This is a very good place for a reasonably priced breakfast buffet. All the traditional bacon, eggs, scrapple, sausage and whatnot are to be found here along with some really good Shoo Fly Pie on the bar for breakfast! These folks in the Amish Country love their carbs :)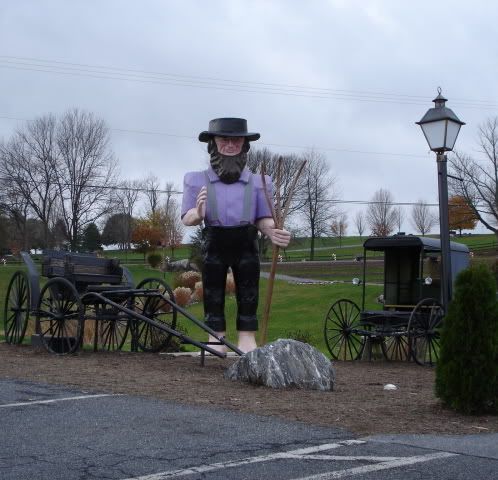 Giant Amishman at Hershey Farm
Jakey's Amish Barbecue:
If you have ever traveled in the Pennsylvania Dutch Country in the spring or summer you have more than likely smelled the enticing aroma of chicken barbecue (yeah, barbecued chicken- they are a bit different in their speech patterns). This restaurant, adjacent to Dutch Haven, allows you to enjoy chicken barbecue year round. This particular style of barbecued chicken is the best I have ever had, and Jakey's is right up there with the best civic club's or fire department's chicken barbecue. It is very smoky and just right for sweetness. The cost is a little steep for what it is, but the food is great.
Dienner's Country Restaurant:
This is a fantastic restaurant and one of the best places to get Pennsylvania Dutch food in the area. The breakfast buffet is the best you will find, period. It is well stocked with hearty PA Dutch staples such as scrapple, home fries, baked oatmeal, and fried mush, dried beef gravy, and pork (pan) pudding, not to mention the usual breakfast suspects. Lunch and dinner are also great. Be sure to try the sweet potato fries. The staff are friendly and efficient. This restaurant is located on busy US-30 and is beside Dutch Haven. The restaurant has strange hours, 7 am to 6pm everyday but Friday when they stay open until 8pm.
The Family Cupboard:
This restaurant specializes in Pennsylvania Dutch cuisine. The restaurant offers a la carte and buffet dining. This restaurant began as The Amish Barn but was acquired in 2006 by the Dienner family and the name was changed to The Family Cupboard. The restaurant has a large second-floor gift shop.This is the third iteration of The Family Cupboard. The original Family Cupboard began in 1997 in Lititz, PA by John Dienner. In 2001, Dienner bought the old Harvest Drive Restaurant in Intercourse, PA and renamed it The Family Cupboard. In 2006, he left the Harvest Drive location and acquired The Amish Barn Restaurant and Gift Shop and renamed it The Family Cupboard.
They have an excellent breakfast buffet and the food is really good. The croquets are very good at lunch and dinner. Try to get seated in the main section as the attentiveness of the staff is not as good near the kitchen (plus you may get stepped on sitting at your table by an overzealous fat tourist kid, as did I in June of 2007).
For a couple of excellent reviews of this restaurant click
here
and
here
.
Strasburg Country Store and Creamery
:
I've been going to this place since the mid-1980s and their ice cream is the best by far. They have a large assortment of flavors and this was the first place I tried a waffle cone. Some of my favorite flavors are: Snickers, Sweet Cream and Nuts, Mint Cookies and Cream, Oreo (or Cookies and Cream), and I know I'm leaving off some other great ones.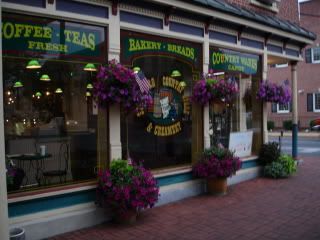 Favorite Lancaster County Related or Produced Foods:
Turkey Hill Ice Cream
:
This is a great company that is active in promoting farmland preservation in Lancaster County through the Lancaster Farmland Trust. They sell milk, ice cream, frozen yogurt, frozen yogurt smoothie flavors, all natural Philadelphia style ice cream, Duetto soft-serve and Italian gelatti, Venice Premium Ice, CarbIQ, and no sugar added ice cream, and lowfat ice cream, sherbet, and an assortment of flavored teas throughout the Mid-Atlantic. My favorite ice cream period is their Party Cake flavor. It is a vanilla ice cream with blue buttercream frosting swirl and multi-colored birthday cake pieces. They also have monthly feature flavors such as Peaches and Cream, Baked Apple Dumpling, Southern Lemon Pie, etc. Some other of my favorite flavors are Dutch Chocolate, Chocolate Peanut Butter Cup, Cookies 'N Cream, Peanut Butter Ripple, Tastykake Peanut Butter Kandy Kake, Tastykake Chocolate Cupcake, Jana's Strawberry Cheesecake, Snyder's of Hanover Chocolate Pretzel and Choco Malt Chip.
Turkey Hill Tea:
Southern style sweet tea is not to be found in PA Dutch Country. They have sweetened tea in restaurants, and nine times out of ten it is from Turkey Hill. The tea has a lemony, strange taste that I love. Turkey Hill also sells the best drink I have ever had: Blueberry Oolong Tea- found in grocery stores and Turkey Hill Minit Markets. They have a wide variety of other flavors such as green, peach, raspberry, lemon, orange and white.
Sheetz Hamsel and Pretzel:
This is a ham (or turkey or beef) and swiss (or whatever else you may choose) on a pretzel roll. These can be found at any
Sheetz
in the Mid-Atlantic.
(Blue) Good's Potato Chips
:
This area is the snack food capital of the nation. Potato chips, pretzels, desserts, ice cream, you name it. These particular chips are among many lard cooked chips in the PA Dutch Country and I believe these are the best of the breed. Other local-made favorites of mine include King's,
Herr's
(Old Fashioned Handcooked) and
Gibble's
. As for pretzels, my favorites are
Utz
Extra Dark Specials, made in nearby Hanover, PA.
Sweet Bologna, Lebanon Bologna and Ring Bologna
: Many local butchers and distributors make these summer sausage-like bolognas. The best for sweet bologna, in my opinion is
Stoltzfus Meats
(Meating You [in Intercourse] is Our Pleasure).
S. Clyde Weaver
(available at many local farmer's markets), Weaver's Lebanon Bologna and Baum's Bologna and
Seltzer's
make excellent versions as well that are available in nearly all grocery stores in south east and south central PA.
Peanut Butter Schmeir:
This traditional Amish style peanut butter is a huge hit in my house. The best I have found is made by the
Jam and Relish Kitchen
at
Kitchen Kettle Village
. The concoction is made with peanut butter, corn syrup, brown sugar, water, sugar, egg whites, and vanilla extract.
Neuchatel Chocolates
:
The Swiss Chocolatier, located in Oxford, PA, has some of the best chocolate to be found. Make sure to buy up their seconds and mistakes, truffles that broke or somehow aren't perfect- tremendous value. Also be sure to get some Swiss Chips- chocolate covered potato chips!!
Wilbur Chocolate
:
This
Lititz
based company produces very fine quality chocolate in smaller quantities. They have a museum and store in downtown Lititz. Their best product is their hand-dipped chocolate marshmallows.
Hershey
:
The most famous chocolatier in the world, Hershey is located in
Dauphin County
, not far from
Harrisburg
and the infamous
Three Mile Island
. While there is no radiation in the chocolate, it sure is good and you can tour the
Hershey's Chocolate World
for free (though you may have to park-depends on what time you are there, what day, and whether the girl at the toll thinks you are hot or not). You get to ride in little brown turdmobiles and see the chocolate making process. I highly recommend the Really Big 3-D Show (and I don't have kids, but still loved it) and the Hershey Trolley Works (a guided tour of the town of Hershey and a nice history lesson). Also take in the
Hershey Museum
. I guess if you like amusement parks you should go to
HersheyPark
and Zoo America. I haven't been since I was a kid, so I have no opinion on it.
Favorite Lancaster County Bakeries/Food Kitchens:
Bird-in-Hand Bake Shop
:
This bakery is located on Gibbons Road in Bird-in-Hand and it is called the "no chain bakery" (though the tourists have definitely figured out where this place is). It is owned and operated by a Mennonite Family, Erwin and Annie Miller. The employees are conservative Mennonite or Amish. This bakery has excellent whoopie pies, Shoo Fly Pie, Snickerdoodle Cookies, Rhubarb pie (in season) and Mince Meat Pie (in season). This is my favorite bakery due to the prices, much lower than most of the others in the area.
Bird-in-Hand Bakery:
This is another business venture owned by the Bird-in-Hand Corporation. The baked goods are wonderful, particularly the Shoo Fly Pie, the baked apple dumplings and the Red Velvet Cake. They have the largest whoopie pies I have ever seen and several different flavors (chocolate, pumpkin-the best flavor in my opionion, peanut butter, vanilla, oatmeal). Their prices are considerably more than the Bird-in-Hand Bake Shop. Their Whoopie Pies were 1.75 last time I was there while the Bake Shop's were .65 (the size difference is pretty substantial however). Of course, both offer discounts on dozens.
Achenbach's Pastry: Located on Route 23 near Leola, this bakery specializes in Long Johns- vanilla, chocolate, peanut butter and vanilla coconut. These are really good pastries. They also specialize in all types of doughnuts and fasnachts in season.
Kitchen Kettle Village Jam and Relish Kitchen:
If you go to nothing else, stop at the Jam and Relish Kitchen, they have the best and most diverse selection of jams, jellys, fruit butters, pickled items, relishes, sauces, dip mixes, etc. that I have ever found anywhere. This is where to get the best pickled beets and peanut butter schmier EVER.
Other places:
Gettysburg- The Gingerbread Man:
This is my favorite restaurant in Gettysburg. The portions are large, the servers are competent and friendly, the prices are good. They have the best chicken salad sandwich I have ever eaten, bar none.
Chambersburg-
Hoss's Steak and Sea
:
The best of the five Hoss's I have eaten at. Well managed, friendly staff, great food. Really fresh salad bar. Nice quality steaks.
Philadelphia-
Fisher's Soft Pretzels at Reading Terminal Market
:
Awesome soft pretzels slathered in butter. Hand made by an Amish family. These are the best pretzels you will EVER eat.

Pennsylvania Dutch County on Dwellable